Hey Everyone!
Passing along some info from our friend's at Dead Ends Live! A great weekend of live music!
———————————-
CHURCH PASS $60.00
 The Dead Ends Live Weekend Church Pass is a must for fans of acoustic music and instrumental magic that draws on any number of influences and genres. Six sets of music from Friday night through Saturday night, including two matinee / workshop performances. From a headline solo performance from John Kadlecik who founded Dark Star Orchestra and worked extensively with Bob Weir & Phil Lesh, and the bluegrass sounds of Chris & Sally Jones to an all-star Fiddle Forum, plus a full set of the Garcia Songbook from David Gans & Joe Craven and a Roots of the Grateful Dead workshop, the mastery of the participating artists and the brilliant acoustics of MacDougall make for a winning combination.
 WEEKEND PASS $115.00
 The inaugural Dead Ends Live weekend allowed fans of both electric and acoustic music to saunter back and forth between MacDougall Church and the Chateau Lacombe Ballroom with ease as they two venues are situated side by side on 101 street and Bellamy Drive.
Enjoy the stunning acoustics in MacDougall for one show and then dance your butt off to the sounds of The McGowans, Mbira Renaissance, and all-star blues, Dead and roots jams with our house band as led by Dave Babcock, with our headliners David Gans, John Kadlecik, MonkeyJunk's Tony D and other fine players.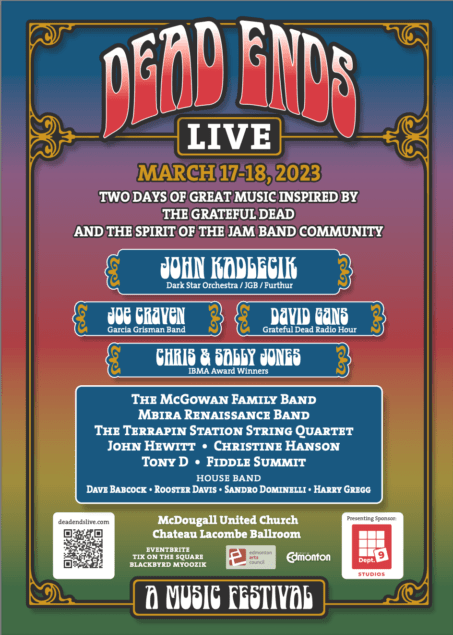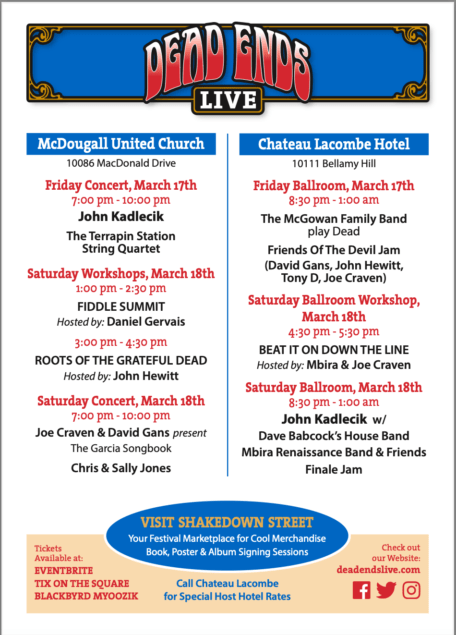 For more info – check out: