Howdy From Wild Oats and Notes! 
A  lil news to send your way! 
Early Bird Tickets are set to go on sale February 10th! So mark your Calendar! 
And… We're happy to share some news regarding the Tofield Jam Club!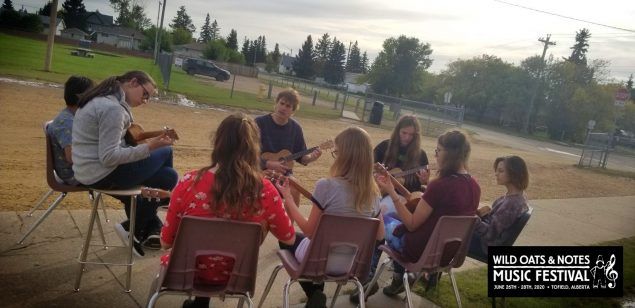 It has been a goal of the Wild Oats and Notes Association Executive and especially the founder Brian Schultz, to support a student music program in their hometown of Tofield, Alberta. As with many small town arts programs, the music program at Tofield School was cut many years ago. After a few attempts, that goal was achieved last year when we were able to facilitate the creation of the Tofield Jam Club!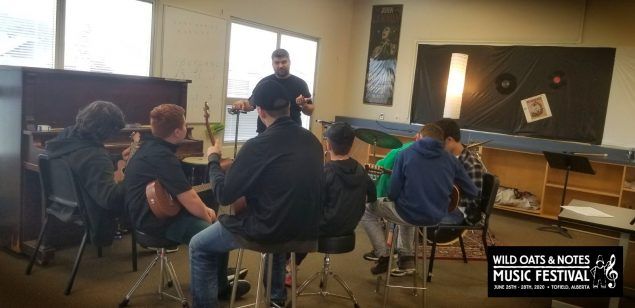 We owe the creation and success of the Jam Club to Bob Cooke, Abby Kropelnicki, Alana Kropelnicki and Dylan George. Bob is from Edmonton and is the club's music instructor. Abby is a Tofield School graduate, musician (Abby K.), and the club's student music advisor and band leader. Alana is a teacher at Tofield School ensuring communication between the school and the club. Dylan is new to the team, filling in as instructor when needed. With monetary support from the Wild Oats and Notes Music Association, the Jam Club had a fantastic start last year with 7 students and some great performances – this year the Jam Club is proud to boast over 15 members! Meeting every Tuesday after school, students are learning chords on ukuleles and are progressing to a variety of other instruments as they work together making music!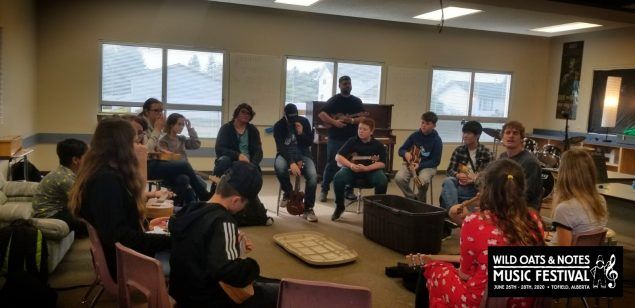 Our thanks goes out this year to the former Tofield School of Dance, a volunteer run, not for profit society, for donating a generous amount of money to sustain our program – without community support the Jam club would not be possible! We also owe thanks to Tofield School Principal Janice Muench for her support of the program and to Janet Carlson, Tofield School secretary, for keeping the finances organized. 
We are proud to support this amazing program and are grateful to all the patrons of the Wild Oats and Notes Music Festival for attending and making it possible for us to pay it forward. Looking forward to seeing you all June 26-28 2020!